Family Care:

I have been a patient of Dr. Lang's for over seven years. I have found his hands-on diagnostic approach to be highly accurate. His therapy is always extremely effective. I first visited Dr. Lang when I was suffering with a painful sciatic condition that did not permit me to stand for more than a minute or two. With each visit, relief and reduction of symptoms were clearly evident. I thank my friend Mitch J. for recommending the doctor; Mitch has been seeing him even longer. After about a month I mentioned my wife's back problem, which is a result of minor Scoliosis. He felt that he could help. I recall that the morning after her first treatment she remarked that it was her best night of sleep in years. Five years later my daughter, who had Scoliosis surgery ten years ago, began seeing Dr. Lang.
Dr. Lang asked for her x-rays before seeing her. He studied them meticulously before deciding on what to do. Again the treatment was effective and helpful.
My wife, daughter and I continue to visit Dr. Lang for treatment. In addition to the office visits Dr. Lang suggests at-home stretching exercises. I do the exercises every other day for about five minutes. I always feel better, but sometimes I am not as diligent and several days lapse. But that's ok because the next time I do the exercises I feel great.
I highly recommend Dr. Lang. His approach is well reasoned and very helpful.
Ira D.
---
A Letter from the Coach:
---
All in the Family: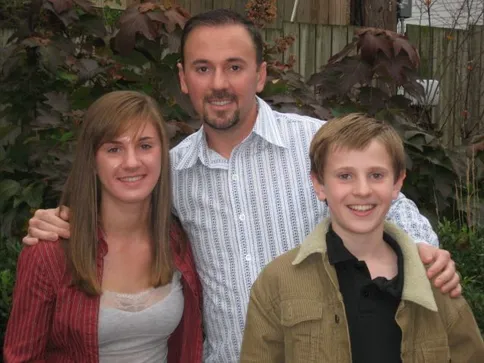 "Dr. Lang is the consummate pro. When you are in his care you know you are being treated by the very best. I have complete faith and comfort in dealing with him, so much so that my children have been in his care for over 10 years. As a family of athletes, Dr. Lang has been an integral part of our ongoing wellness. All Chiropractors are not the same. Dr. Lang is a professional, an advocate, a healer and friend.
The Casey Family.

---
Success with Spinal Decompression:
"Shortly after I was in an auto accident I started therapy on the Antalgic Trak to treat pain in my neck and back as well as numbness in my hand. After my first few visits I experienced less numbness in my hand and less pain in my neck and back. I was treated for a few months on the Antalgic Trak and by the end I was about 90% better then when I started. The numbness had decreased in both frequency and intensity as well my pain was eliminated. I would highly recommend the Antalgic Trak decompression system for the reduction of neck and back pain, it has definitely helped me start to feel like myself again!"
Megan S.
---
Our family has been coming to see Dr. Lang off an on for the past several years for minor back and neck issues that have come up due to our busy lifestyle.
A few months ago, I had a car accident that totaled my car and messed up my back and neck. Dr. Lang recommended the Analgic Trak treatment which it turns out was the best thing I ever did for my back. Since I have completed the analgic trak treatment, I have not had any episodes of my previous nagging problems. The staff was always welcoming and friendly and since I had to be there often during my treatment, this made it so much more pleasant.
Dr. Lang is very knowledgeable and takes the time to explain the treatment and include his patients in the plan of care so that you can see the light at the end of the tunnel when pain is consuming you.
I have referred several friends to Dr. Lang and the feedback from them has also been very positive. I plan to continue regular adjustments to maintain my healthy spine so I can maintain my active daily life.
Desiree E.
---
Hi Dr. Lang-

Just wanted to let you know that my family and I had such a great time in Florida and it was wonderful to have some family time. My back was great and I was able to go on so many of the rides in Universal with no problems. To think that I was having trouble just staying on my feet and walking just a few months ago and this week I walked all over the parks and even went on the Mummy many times! Wow! Thank you, thank you, thank you! I am pain free and am so grateful that I found you and your staff. Alyssa also wants to send her thanks to you. She had a great high school season and now is looking forward to her AAU season. You have been such a support to her both physically and emotionally. I'm glad to say that you are part of her team to help her reach her highest potential.

Michele C.
---
Dr. Lang,
I just wanted to extend my sincere gratitude for the care you and Dr. Cousino have given me and the success with my physical therapy. Your entire staff is courteous, friendly and professional in every aspect of what you do.
I was so upset and in a tremendous amount of pain with my knee to the point where I couldn't sleep. My quality of life was terrible with constantly being in agonizing pain and tired from lack of sleep to the point where I found myself taking up to 12 Advil's a day.
My lifestyle involves activities that most individuals "my age" do not partake in including ice hockey, baseball (Not softball but hardball) and umpiring amateur baseball. My friends all say it's "old age and you simply cannot do the things you use to". To me, this was neither an option nor an answer. I finally decided that perhaps I needed surgery or some sort of help since I couldn't do this alone. Fortunately, I called your office and it was the best possible thing I could have done. Within four short weeks, you and Dr. Cousino had me training like an Olympic athlete and the pain is virtually gone.
What is even more fantastic than this was the orthotic help you gave me. I suffered from shin splits due to severe flat feet. I simply could not stay on ice skates for more than 5 minutes without intense foot pain. Because of your help I was able to ice skate again as well where I was able to play ice hockey again. I had to hang my skates up many years because of the flat feet but now I'm playing again thanks to you.
I cannot thank you enough for this treatment and rehabilitation.
Sincerely,
Anthony V.
---
Dear Dr. Lang,
I just wanted to write this to give you the sheer gratitude of how helpful you've been to me along the way with my journey to recovery. To those of you who don't know I have been having seizures since 2006 and have been to all of the top neurologists all around. All of them had their different opinions as to what was causing the "episodes" as they called them yet no medication worked. I went to see Dr.Lang and he said he could help, and he did just that! I started seeing him on a weekly basis and little by little my seizures got milder and milder. Based on what the neurologists said "it was pure coincidence" I stopped going for a little and what do you know, the seizures came back in full force! I finally realized my recovery is all to Dr.Lang who is one of the most caring people I have met. He isn't just some Dr that you go in on an appointment and your out without him knowing anything about you. He really cares and puts in all his time and effort to get to know you and fix whatever problem it is you might have. Thank you Dr.Lang!
Sincerely,
Bobby